Taking a break from writing about e-cigarettes, I scoured the web for the most shocking/amusing pictures of smoke. Here are the results!
(Just in case you are wondering, the image of the baby flying through the air here has not been photo-shopped – it is real! With no way out, the family decided it was better to throw the baby from a burning building and hope someone would catch the baby than risk certain death by fire!)
1. A baby thrown from a burning building!
2. And you thought your 20 a day habit was bad!
Source: Sabotage Times
3. Dedicated smoker!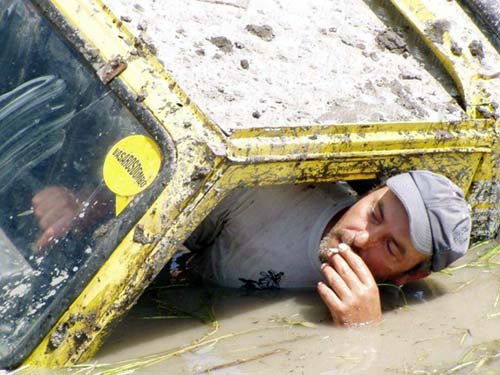 Source: Foundshit
4. Stupid ban…
Source: http://www.foundshit.com/tag/smoking/
5. You looking at me, punk! This was the picture from Indonesia which shook the world.
Source: Josie's Juice
6. Smoking will kill you, don't you know!
Source: Funny.com
7. Incredible picture of smoke from a volcano!
Source: Nature wall papers
8. It's okay for guide dogs to smoke – they need fags to cope with the stress!
Source: Wordfruit.com [page since removed]
9. If you smoke you are gay!
Source: Different Videos
10. Smoking orang-utang!
11. Smoking cat!
Source: Dear HMRC
12. Smoking Children
Source: Neatorama
13. Smoking Crab
Source: RGB Picture (site closed)
14. Smoker's Grave
We also featured this on our post: 37 Most Shocking Anti-Smoking Pictures Ever
Source: Coll Things
15. Smoking Cafe
Source: Fexy
16. Smoking in War
See Marlbourgh Man in Iraq for the full story.
Over to you – If you know of any more shocking/amusing images of smoking leave a link to it in the comments below, and if we can we will upload it here!!
Enjoy this post? If so, I'd love it if you could share it using one of the share buttons below 😉